 Phil Drake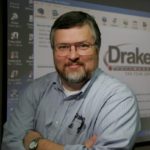 Founder, President & CEO of Drake Software, 
Shares His Thoughts About The Tax Industry, 
Technology, And Business.
What is the biggest challenge facing the tax professional today? 


Compliance, compliance with the EIC rules, compliance with the Due Diligence Rules, compliance with the ACA (coming up). Those used to be the responsibility of the taxpayer, to represent the true facts to the preparer. Now, more and more, the preparer is held responsible for determining the truth of the facts.
What technology will be the biggest catalyst for change in the accounting profession over the next 5 to 10 years? 


Two things: Mobile technology and Cloud Computing. As late as the 1970's, computer usage was centered around a "mainframe" and anything that was distributed was a dumb terminal, which did not house any programs or data. In the 70's and 80's we began the movement toward putting a computer on every desk, and pretty much achieved that before Y2K. Now, we are beginning to see the value of housing data centrally, and even housing the programs centrally, so that you can access them from anywhere. We are moving back toward a "cloud centric" model (which is very similar to the mainframe model). Mobile technology is enhanced by the cloud computing model. If you have a good connection to the internet and a browser, you can pretty much do tax returns on any device from anywhere.

What advice can you provide to the young tax professionals and tax entrepreneurs out there to help them achieve their goals and run successful businesses? 


First, learn how to keep a set of books and do a tax return with a pencil. Seriously, today many folks are not learning the basics of accounting and tax preparation. Everyone needs those basic skill sets to succeed in this business. Second, after you know how to do those things, then find technology that will do all the grunt-work for you. You still need knowledge, but you can make your job easier with the right tools (or maybe the right toys).

What are the keys to Drake's continued success? 


First, availability - answering the phone for customers when they have a question is key. Next, hire good people and get out of their way.

What do you do in your spare time? 
What spare time?
Phil Drake, a native of Franklin, NC, is the Founder, President, CEO and Chief Architect for Drake Software. The software division of Drake serves over 47,000 tax offices throughout the United States. Besides software, Drake Enterprises operates 15 other community-focused businesses in Franklin, NC, where Drake Software's corporate headquarters is located.