"How Did Your Filing Season Go?" Survey Results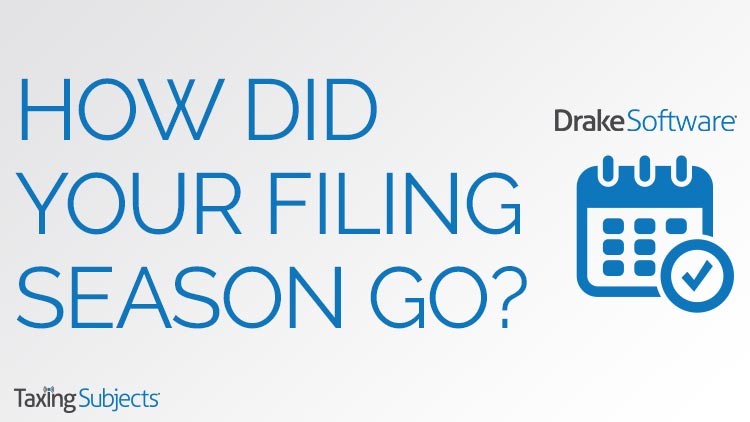 Edit: We understand some of our customers may be utilizing special tools to access PDFs. While we have worked diligently to ensure our materials are accessible to all individuals, there may be some PDFs prior to January 2020 that require formatting for the use of accessibility tools. Please let us know if you require additional formatting of the PDFs so that you may access them using special tools. You may send that accommodation request to Blog@DrakeSoftware.com.
This filing season was the first to feature almost all changes from to the Tax Cuts and Jobs Act—not to mention the new Form 1040 and Schedules 1 through 6. To learn whether these changes had a significant impact on tax professionals, Drake Software Blog Team surveyed more than 5,000 preparers.
Respondents included CPAs, EAs, attorneys, and other preparers belonging to tax practices of all sizes, from offices preparing 20 returns to those handling more than 1,000 returns. They provided multiple-choice responses to five season-specific issues:
What was your biggest challenge this season?
How many clients had questions about the new Form 1040?
How did the Tax Cuts and Jobs Act impact your clients' taxes?
Pick the TCJA change that gave you the biggest headache during tax season.
If you could do it all over, would you have spent more time learning about the TCJA and Form 1040 changes?
To download the "How Did Your Filing Season Go?" infographic, complete the form at the bottom of the page and wait for the page to refresh. If you've already completed the form on a different Drake Software Blog Team download, you should see a hyperlink instead of the form.
Those interested in hearing more about last filing season should check out the latest episode of the Drake Software Blog Team Podcast featuring an interview with Jim Lowe, EA of AVL Tax Professionals.
TO ACCESS YOUR FREE DOWNLOAD
Complete the form below
Wait for the page to refresh
Click the hyperlink that appears below these instructions
Important: After completing the form, you will have access to all Drake Software Blog Team downloads!
Warning: If you clear your browser cookies, you will have to fill out this form again. 
How Did Your Filing Season Go Infographic.pdf