Drake Software Announces Employee Mentorship Program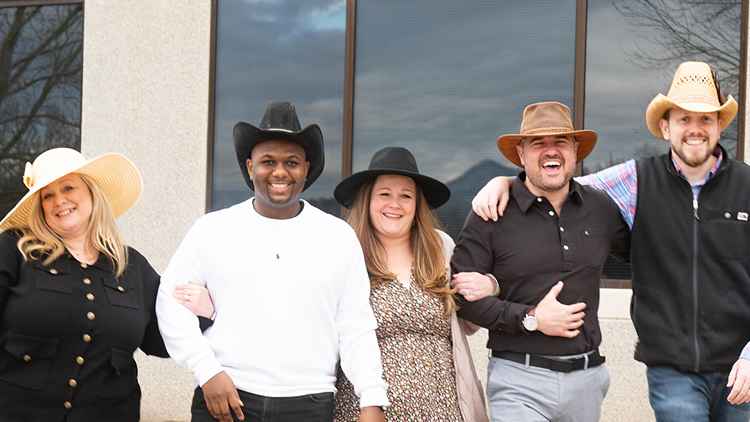 The founding members of the mentorship program are, from left, Amanda Watson, Chris Nisbeth, Lori Crawford, Michael Jenkins, and Jared Ballew. Not pictured is Cody Watson.
Drake employees with over 100 years combined experience kick off mentorship program
Drake Software is proud to announce the launch of a new employee mentorship program as part of its Building a Strong Workforce initiative. The program will invest in employees' futures by equipping them with the support they need to succeed.
What will the mentorship program do?
The Drake Software employee mentorship program will foster a learning culture by pairing experienced mentors with new hires and interested current employees. As part of this new team, Drake mentors will provide guidance that:
Promotes personal and professional development
Increases job satisfaction
Improves employee retention 
The program will also help mentors deepen their extensive company knowledge by contributing to colleagues' success. 
Who will be part of the mentorship team?
The mentorship program will initially be composed of Support veterans and alumni. These employees gain diverse, comprehensive knowledge of Drake Software products, customers, and internal processes, making them the ideal group to promote into other areas of the company.
Support alumni have more than 100 years of combined experience with Drake, and they have long served as a pillar of the company's success. Alumni now provide their expertise in diverse areas of Drake, including sales, information security, software development, government relations, customer education, and customer onboarding.
About Drake Software
For more than 40 years, Drake has provided tax professionals with fast, reliable software to run successful tax practices and serve their clients' tax filing needs. Today, over 60,000 tax offices use Drake Software. Using innovation, customer feedback, and a team of dedicated developers, subject matter experts, and support staff, Drake continues to achieve its goals of customer satisfaction, product refinement, and customer growth. For more information, visit DrakeSoftware.com or call 800.890.9500.