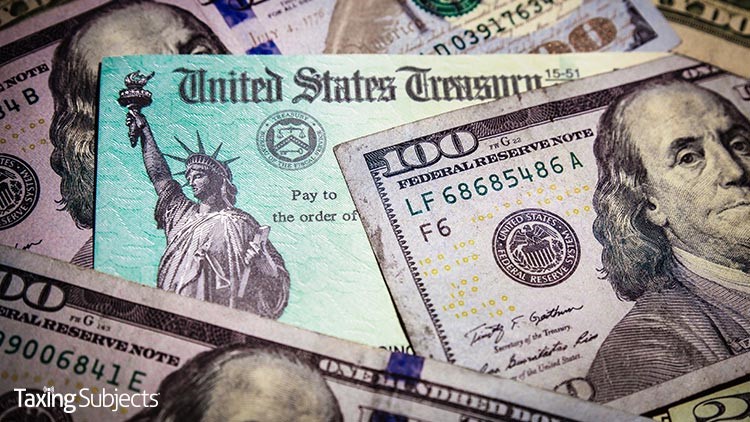 The U.S. Treasury Department and the Internal Revenue Service say they've delivered 88 million stimulus payments to taxpayers during the first three weeks of the program.
As of April 17, the IRS issued 88.1 million of the Economic Impact Payments (EIPs) to individual taxpayers across the U.S. The agency says more payments are continuing to be delivered each week.
"The IRS, Treasury and partner agencies are working non-stop to get these payments out in record time to Americans who need them," said IRS Commissioner Chuck Rettig. "Tens of millions of people across the country are receiving these payments, and millions more are on the way. We encourage people to visit IRS.gov for the latest information, FAQs and updates on the payments."
In all, more than 150 million payments are expected to be sent out. Millions of individuals who do not typically file a tax return are also eligible to receive the payments. The payments are automatically sent out to people who filed an income tax return in 2018 or 2019, and those who receive Social Security retirement, survivor or disability payments (SSI), or Railroad Retirement benefits. Payments are also going out to Supplemental Security Income (SSI) and Veterans Affairs beneficiaries who did not file a tax return in the last two years.
By the Numbers
As of April 17, California showed the most EIPs, receiving over 9 million payments. Texas wasn't far behind with more than 7.8 million payments received. On the other end of the scale were Wyoming and Vermont, with 166,000 and 188,000 payments respectively.
Looking at the big picture, the Treasury Department says the 88.1 million Economic Impact Payments totaled more than $157 billion in relief funds.
Need More Help?
The IRS website, IRS.gov, has a variety of online tools and other resources to help individual taxpayers and businesses navigate the Economic Impact Payments and get needed information about EIPs and other relief provisions.
The IRS says it is seeing a variety of questions coming in about Economic Impact Payments, ranging from eligibility for payments to timing. The IRS has developed a list of Frequently Asked Questions (FAQs) for an overview; the list is updated frequently. Check the FAQs often for the latest updates and additions' many common questions have already been answered on IRS.gov and more answers are being developed every day.