Easy Steps to Create Your Mandatory Tax Office Security Plan (SAMPLE INCLUDED!)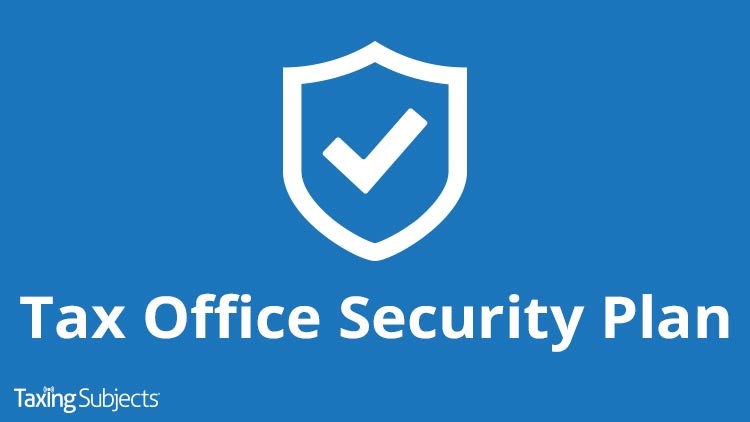 Updated: May 6, 2021
Scroll to the Bottom of the Page for the Download!
When preparing for tax season, the checklist often includes learning about software updates, reviewing tax law changes, and training seasonal staff. Unfortunately, developing an office security plan might not make everyone's list—and that's a problem, because it's required by the Federal Trade Commission.
The Internal Revenue Service regularly reminds paid tax return preparers that the FTC's Safeguards Rule applies to the tax industry, since, according to the FTC's website, tax professionals collect and store sensitive financial data while "providing financial products or services."
Any office that professionally prepares tax returns must have a "written information security plan that describes their program to protect customer information." That being said, you may not know where to start if you've never developed a security plan. To give tax professionals a head start, Drake Software put together a security plan that addresses the basics of safeguarding data.
The Drake Software Tax Office Security Plan breaks down each step in protecting data into a series of worksheets:
Listing administrators and general users of the systems that interact with private data
Determining the type of information handled by the office
Inventorying the electronic equipment interacting with that information
Identifying the threats posed to that information
Prioritizing the order in which issues need to be resolved
The security plan also includes a slightly modified version of the sample acceptable use policy provided by SANS.org detailing how employees are allowed to use the equipment that interacts with that information. Each section includes instructions explaining how to fill out the worksheets.
Getting started is as easy as downloading and completing the Drake Software Tax Office Security Plan, which includes examples of how to fill in the provided worksheets.
TO ACCESS YOUR FREE DOWNLOAD
Complete the form below
Wait for the page to refresh
Click the hyperlink that appears below these instructions
Important: After completing the form, you will have access to all Taxing Subjects downloads!
Warning: If you clear your browser cookies, you will have to fill out this form again. 
Drake Software 2021 Tax Office Security Plan.pdf